In this lecture, you will learn from counsellor and trainer Emma Chapman what a timeline is, why you might choose to use one, and the benefits of doing so in a therapeutic setting.
By the end of the lecture, you can expect to be able to:
describe what a timeline is
understand the benefits of using a timeline to explore life-story and create coherent narratives
identify how using a timeline can challenge current destructive behaviour and beliefs
explore how you might use a timeline with different clients.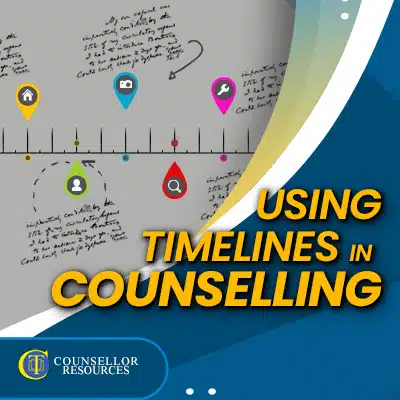 Emma begins by explaining what a timeline is and different formats for creating one, including creative possibilities. From the start, Emma relates the topic to practice, explaining when we might use a timeline and which types of clients may be most likely to benefit from this technique.
Watch this Lecture + Hundreds More
+ Assignment Guidance & Study Support for Counselling Students
Academic Lecture Library - Lectures that cover key theory, skills and professional development linked to your counselling study.
Assignment Guidance - Complete assignment exemplars and portfolios of work that have been passed by both tutors and awarding bodies. 
Theory Decoded, Skills Mastery and More - Counselling theories and skills are broken down into easy-to-understand 'chunks', with clear examples to guide you.
Key to using timelines in counselling is allowing the process to be client-centred; Emma provides guidelines on how to achieve this, before showing a sample timeline and examples of different objects that can be used in creative timeline work.
Emma relates timelines to narratives, life stories and storytelling – and their role in integrating parts of self and in making meaning. She ends by illustrating the points covered in the lecture through a case study.
At the end of the lecture, you will be given a list of three references for further reading research into this interesting and versatile technique that can add another dimension to your counselling practice.
About the Lecture Presenter
Emma Chapman is a counsellor and trainer working in private counselling practice in Cheshire.  In her Northwich office, she works with adults, young people and couples.
Emma believes that having good mental health is the key to having a fulfilled and happy life.  As a passionate advocate for mental health, Emma also delivers mental health training to a variety of audiences across the North West of England.
Emma is a qualified teacher who came to counselling later on in life after 15 years of working in public sector and charity roles.  During this time she worked with vulnerable children, adults and families in teaching, family support, safeguarding and pastoral roles.
After so many years working with children and families who often struggled to manage day to day life, Emma began to observe that poor mental health and trauma played a huge part in keeping people stuck in damaging patterns of behaviour.
This conclusion led her to further training in mental health, and she started her counsellor training in 2014 at Mid-Cheshire College studying part-time.  In 2018 she completed an MA in Clinical Counselling at Chester University.
Emma has experience working in an NHS IAPT setting but decided to work privately in order to work with her clients more creatively.
After a short spell teaching counselling at a local college, Emma continued to put her teaching skills to use and further develop some training packages for fellow counsellors, educational settings and businesses.
As a mother of two children, Emma struggled with her own mental health after becoming a Mother. In 2019 she had her research into maternal mental health published in the journal of Crisis, Illness and Loss*.  She now specialises in working with mothers experiencing perinatal mental health difficulties in her private practice.
Following some time working at a charity dedicated to the prevention of suicide it became clear to Emma that there was little therapeutic support for those experiencing suicidal ideation.
In her private practice she also works with people who are experiencing Suicidal Thoughts and delivers suicide awareness training to counsellors and other organisations across the North West.
Free Handout Download
Using Timelines in Counselling - lecture overview