In this lecture, psychotherapist Amy Launder aims to help you become aware of moral injury, and how to work with this situation therapeutically. You will learn:
to understand what moral injury is
to explore what might cause moral injury
to identify the impacts of moral injury
to explore how we can work with moral injury in the therapy room.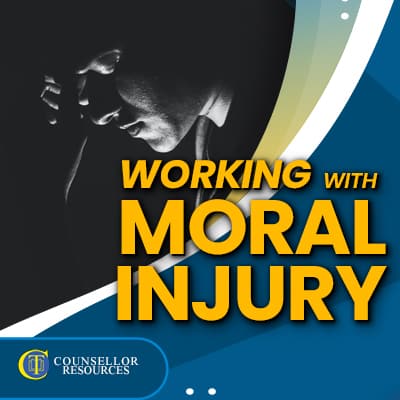 Amy begins by explaining what morality is, its purpose, and where it comes from. She explains that morality can be split into two types: cognitive and emotional.
Turning then to moral injury, Amy explains the origins of the term and what it means: the suffering that people experience when they are in a high-stakes situation, something goes wrong, and harm results that challenges an important moral value of theirs.
Watch this Lecture + Access Hundreds of Hours of CPD
Certified CPD for Qualified Counsellors
Hundreds of hours of on-demand CPD lectures to help you stay current with your CPD ethical requirements
Support, and be supported, by thousands of other counsellors as a member of the exclusive online community.
Access your learning anytime you want ... anywhere you choose ... using any device type — desktop or mobile.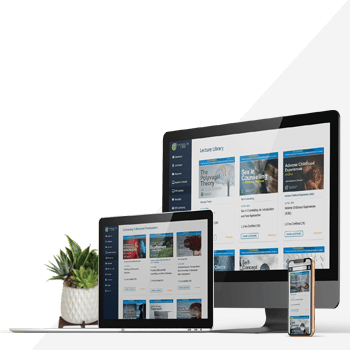 Morally injurious events may be caused by acts of either commission or omission, carried out by self or others – which Amy illustrates using a matrix. Most research into moral injury has been in the context of military personnel and veterans – and moral injury has been one of the greatest challenges for NHS frontline staff during the COVID-19 pandemic. It has also affected journalists in harrowing situations.
Since moral injury may be linked with depression and post-traumatic stress disorder – and various difficult emotions such as shame, guilt and anger – this is an important area for all counsellors and psychotherapists to be aware of. Amy shows the differences and overlaps between PTSD and moral injury.
You will learn which approaches are best suited to working with moral injury, and the particular strength of acceptance and commitment therapy (ACT) in this situation. You will take away from the lecture:
five guidelines for working safely and ethically with clients who have experienced moral injury
nine references for further reading on this important and highly topical area.
About the Lecture Presenter
Amy Launder is an accredited psychotherapist working in South-West London with private one-to-one clients, both online and face-to-face.
She also works for a counselling organisation as a team leader, managing and supporting counsellors who are on training placements. Amy fell in love with the coaching aspect of this role; helping the counsellors to find their feet and manage their caseloads.
This encouraged her to also train as a psychological coach and open Smart Therapy Ltd. Smart Therapy Ltd provides business coaching for therapists who want to start their own private practices.
To make this information even more accessible, Amy has also created three mini e-books which provide information on the practical aspects of setting up a private practice, as well as marketing and the financial aspects of running a therapeutic business.
Smart Therapy Ltd also provides counselling rooms for therapists in South-West London.
Amy currently works with both NHS clients and her own private clients but has also had experience working with primary school students, sixth form students, older adults, and clients who use interpreters.
Free Handout Download
Working with Moral Injury - lecture overview