169 – Producing a Client Information Sheet for Counselling
Mastering Counselling Skills – Working with Suicidal Clients
In episode 169 of the Counselling Tutor Podcast, Ken Kelly and Rory Lees-Oakes share their tips on getting to grips with counselling skills. 'The Digital Counselling Revolution' then focuses on possible content for a client information sheet for counselling.
Last, in 'Practice Matters', the presenters discuss how to work with suicidal clients, drawing on the work of Dr Andrew Reeves, former BACP Chair, who has recorded a lecture on this specialist topic for Counsellor CPD.
Mastering Counselling Skills (starts at 1.40 mins)
It is natural for students who are new to their level of counselling training – and also for those who have been signed off as fit to practise and are just beginning their placement work – to feel nervous.
Rory and Ken remember their own student days, and give various tips on how to develop your skills:
Remember that mastery of counselling skills takes time, and is a continuing process for all counsellors – so be patient with yourself.
Rather than analysing your 'performance' as a counsellor through your own eyes, focus on the client's responses to your intervention: this must always be the key measure.
When working in a triad in college, always make sure therefore that the 'client' is first to feed back, so that they are not influenced by the observer's comments.
Bear in mind that combing YouTube for examples of counselling sessions to watch and learn from may not always be the best use of time; for example, some videos there may be very out of date, or not be good examples at all.
Invest in a good-quality recording device, and always record your peer sessions and – ideally – client sessions (bearing in mind data-protection regulations, agency policy etc.).
Have a look at the Carkhuff & Truax Empathy Scale and consider using this in reviewing your sessions.
Try to counsel a range of peers, to get experience of working with different types of people and to broaden your feedback.
Talk to your supervisor about how your skills development is progressing, and what they think you could do to help this along.
You can read more about mastering counselling skills in a handout written by Rory; this can be downloaded here, or accessed through the Counselling Study Resource (CSR).
If you're not already a member of the CSR, you might like to consider joining: it contains a dedicated section on skills – as well as lots of online assignment guidance and study support for students of counselling and psychotherapy. The accessible, online learning platform is available 24/7.
Producing a Client Information Sheet for Counselling (starts at 17.55 mins)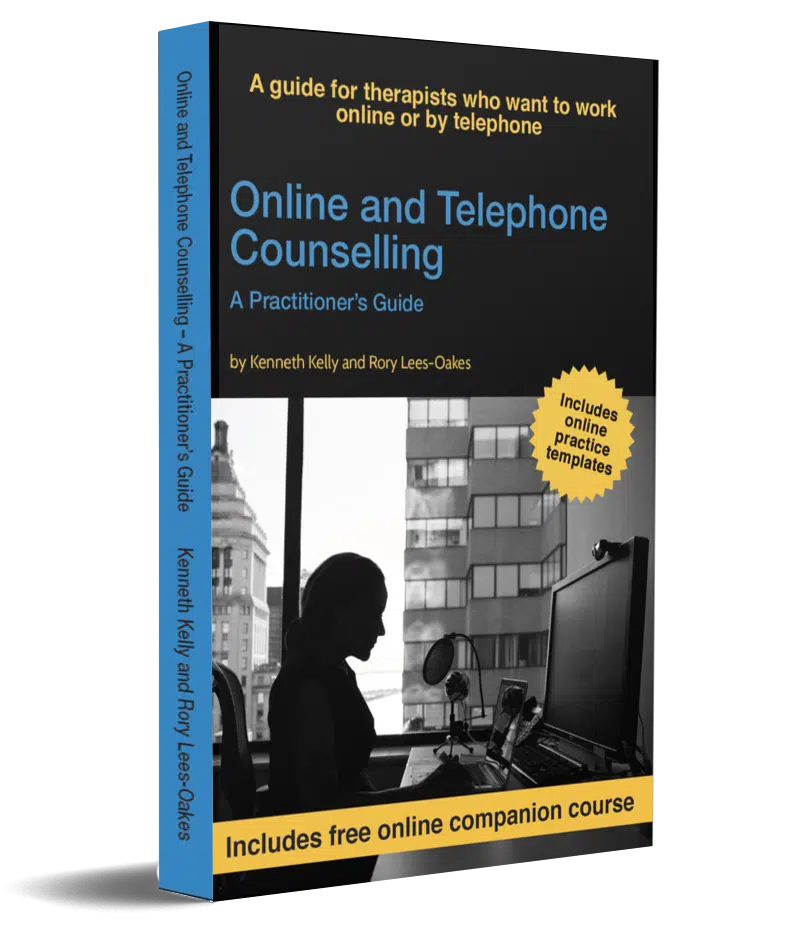 BESTSELLER
Online & Telephone Counselling Book
Available in Paperback and Kindle
Includes FREE COMPANION COURSE that you can do online to underpin and strengthen your learning
It may be harder for clients to get a full picture of what's on offer when working online: they don't get the opportunity to physically enter the agency and talk face-to-face with the practitioner.
Producing a client information sheet for counselling can be a really useful way to surmount this.
Rory and Ken talk about the possible contents of this, including confidentiality, client safety and technology. You may like to include a photo of yourself in your client information sheet, so that the client can put a face to your name/voice.
Ken describes how he recorded a short video for prospective therapy clients and sent them a YouTube link as part of the client information sheet, so they could get a sense of him and whether they would feel comfortable working with him. It's also helpful to include a list of FAQs.
If you visit our Facebook group (if you're not already a member, it's easy to join), you'll find lots of input from people who are undertaking – or have finished – our 80-hour course, Online and Telephone Counselling.
Working with Suicidal Clients (starts at 32.00 mins)
Working with suicidal clients is challenging, and there are a number of elements to be aware of and to consider.
Rory notes too that the phrase 'to commit suicide' is no longer appropriate to use: this dates from a time when suicide was a crime, but as this is no longer the case, the word 'commit' prolongs the stigma of this and so sounds judgemental.
Former BACP Chair Dr Andrew Reeves – who is a Counsellor/Psychotherapist, Social Worker and Associate Professor in the Counselling Professions and Mental Health – has recently produced a lecture on this specialist topic for Counsellor CPD, our online CPD library that contains hundreds of hours of on-demand CPD lectures, training and resources to support your development.
Key elements covered by Andrew in his lecture include risk factors, protective factors and the use of crisis plans.
Free Handout Download
Three-Step Blueprint to Passing Your Skills Evaluation First Time