175 – Supervision for Online Therapy Work
Diversity – Polyvagal Theory
In episode 175 of the Counselling Tutor Podcast – the first for 2021 – Rory Lees-Oakes and Ken Kelly open with the 'Student Check-In', discussing diversity. 'Digital Counselling Revolution' then looks at supervision for online therapy work. Finally, in 'Practice Matters', Rory interviews counsellor and trainer Emma Chapman on polyvagal theory.
Diversity (starts at 1.30 mins)
Diversity is a key topic in counselling studies – as is equality, i.e. the importance of all people being treated equally. Ken lists a number of areas of diversity, some of which are widely recognised and others less so.
Clients are naturally affected by how they have experienced the world to date – but counsellors too have their own personal experiences.
This means that we must be willing to undertake self-exploration in order to uncover any hidden biases we may have. While equality has come a long way in recent years, none of us is immune to ongoing prejudice – both our own and others'.
It is important to know about the Equality Act 2010, which aims to protect people from unfair treatment, and to promote a fair and more equal society. Indeed, lack of knowledge is not appropriate either on this or on areas of diversity relating to individual clients.
As counsellors, we have a responsibility to educate ourselves (not to rely on clients to do so), and to consider all aspects of service accessibility (e.g. physical and linguistic).
Rory has produced a handout on equality and diversity in counselling, which you can download here, or via the Counselling Study Resource. The CSR contains a whole section on equality and diversity, tailored to the needs of students of counselling and psychotherapy.
Supervision for Online Therapy Work (starts at 14.40 mins)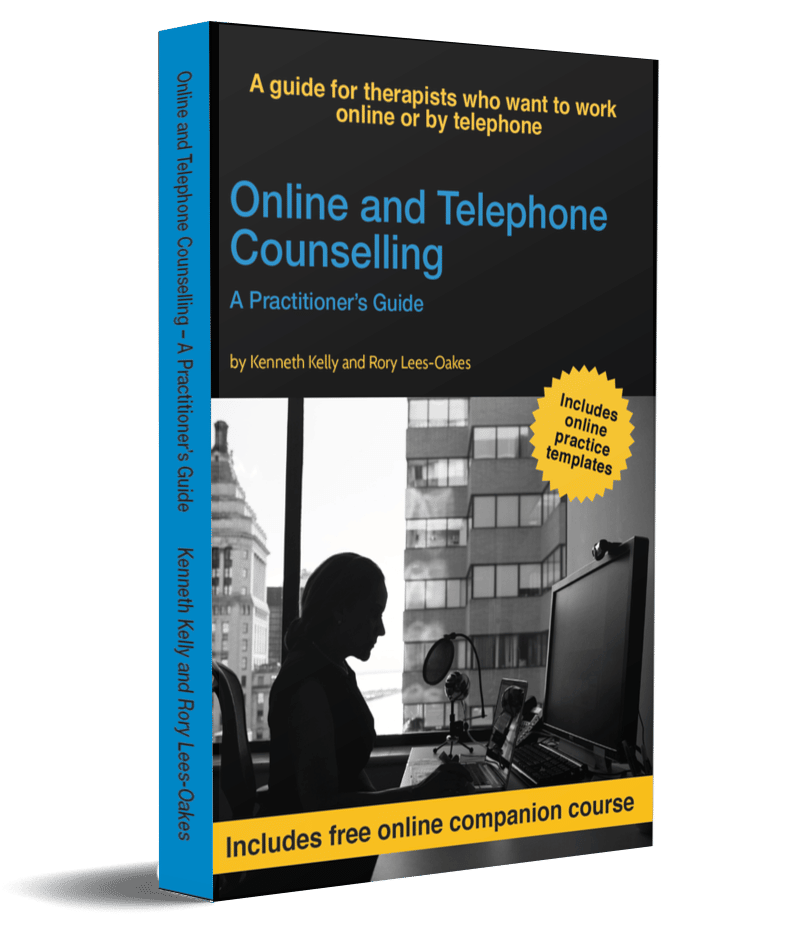 BESTSELLER
Online & Telephone Counselling Book
Available in Paperback and Kindle
Includes FREE COMPANION COURSE that you can do online to underpin and strengthen your learning
The COVID-19 pandemic has led to a huge growth in online working, which in turn has triggered a need for supervision for online therapy.
Ideally, a supervisor of online work would have both a qualification and experience in this. But what should you do if you can't find such a person, or if you already have a supervisor for your face-to-face work who doesn't have a qualification in online supervision?
As a minimum, your online therapy supervisor should have a qualification and experience in working online themselves as a counsellor, for example our course, Online and Telephone Counselling.
In exciting news, Rory announces that he is currently working on developing a new supervision qualification – which will be recognised by a well-known awarding body in this field. This will qualify practitioners to work as supervisors of both face-to-face and online work. Current face-to-face supervisors may be able to top up their skills in online supervision too.
Ken hopes there will be more news on this in around March 2021: so keep an eye on your emails and an ear on our podcasts!
Polyvagal Theory (starts at 27.55 mins)
In episode 174 of the Counselling Tutor Podcast, Rory and Ken spoke about polyvagal theory, the topic of an exciting new lecture by Emma Chapman for Counsellor CPD, our online CPD library that contains over 150 hours of on-demand CPD lectures to support your development. In this episode, we bring you an exclusive interview with Emma on this important topic.
Emma and Rory cover:
what polyvagal theory is
the mind–body connection, i.e. the link between mental and physical wellbeing
the role of the vagus nerve and its effect on the body
trauma responses
the physical manifestations of bereavement, loss and loneliness
Polyvagal theory is an important topic for counsellors to be aware of, enabling them to work effectively when clients are unable to access rational thought processes. In addition, psychoeducation of clients on this theory can be hugely helpful for them.
Free Handout Download
Equality and Diversity in Counselling