223 – Counselling Male Survivors of Sexual Abuse
Ego States in Transactional Analysis – Regulating Yourself in the Therapy Room
In Episode 223 of the Counselling Tutor Podcast, your hosts Rory Lees-Oakes and Ken Kelly are back with three new topics:
In this week's 'Counselling Foundations', we look at the ego states in transactional analysis.
Then in 'Focus on Self', we'll think about self-regulation within our sessions.
And finally in 'Practice Matters', Rory speaks with Del Beach-Campbell on counselling male survivors of sexual abuse.
The Ego States in Transactional Analysis [starts at 01:59 mins]
Counselling Foundations is sponsored by
Counselling Skills Academy
Learn counselling techniques by seeing counselling skills used in real sessions by qualified therapists.
Real sessions – real-life presentations – real skills.
In this section, listen as Rory and Ken discuss Eric Berne's Pack Ego Model (PAC Model):
In its most simplistic form, the model is split into these three states:

the adult ego state
the child ego state
the parent ego state

If a person is in any one of these states permanently, it may lead to miscommunications and disagreements.
Your client will want an adult with them in the therapy room (in the adult ego state).
The child ego state means you're functioning without your critical thinking, and you may not make the best decisions.
A healthy personality will go through all the states.
Within the adult state, you can acknowledge the other states – you're not blinkered like you may be in the other states.
Regulating Yourself in the Therapy Room [starts at 21:32 mins]
Get on-demand Certified CPD that is implementable in your practice
Counsellor CPD Library
Over 150 hours of on-demand CPD lectures to help you stay current with your CPD ethical requirements
Support, and be supported, by thousands of other counsellors as a member of the exclusive online community.
Access your learning anytime you want ... anywhere you choose ... using any device type — desktop or mobile.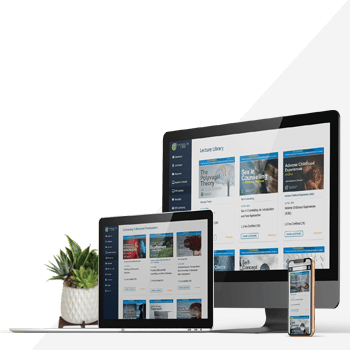 When feelings arise during a session that you know shouldn't be there, it can be quite difficult to navigate. In this section, Rory and Ken discuss some actions you may want to consider taking if this does happen to you:
Make sure you've had good personal therapy and you have good supervision.
Take action if you're struggling to regulate.
If it arises amidst a session: see it, acknowledge and recognise it, then put it to one side (bracket it off) while with the client. However, make sure you go back to it later.
It's okay to feel these feelings – but you can't let them overwhelm you.
It isn't a weakness.
If it persists, maybe seek personal therapy.
A way to recognise that you have been 'breached' by client material is that you may notice you are no longer in the clients' frame of reference, but your own.
Counselling Male Survivors of Sexual Abuse [starts at 36:52 mins]
The National Counselling Society is proud to sponsor Practice Matters.
NCS are really excited to have launched their Children and Young People Therapist Register for counsellors working with the younger age group.
In this week's 'Practice Matters', Rory speaks with Del Beach-Campbell about counselling male survivors of sexual abuse.
The key points of this discussion include:
Men are more often spoken of as perpetrators – but we still can't overlook the minority.
Often asked why they didn't fight back/defend themselves.
Sexual violence is about power more than anything else – not necessarily to do with the sexuality of either the victim or the perpetrator.
Some misconceptions include:

Sexuality – it brings questions for the victim on how they feel about their sexuality, and introduces issues with trust.
Brings about feelings of guilt and shame.

Men need to speak out more and be heard when it comes to sexual abuse.