179 – Counselling Research Projects: Tips for Students
New Book from Counselling Tutor – Peek into Rory's Practice
In episode 179 of the Counselling Tutor Podcast, Rory Lees-Oakes and Ken Kelly offer tips for students on succeeding in their counselling research projects. There's then an exciting announcement in 'Digital Counselling Revolution' about a brand-new book from the team. Finally, in 'Practice Matters', the presenters launch a new feature – 'Peek into Practice' – which they illustrate through a conversation about Rory's experience as a school counsellor.
Counselling Research Projects: Tips for Students (starts at 1.50 mins)
All practitioner-level counselling training courses include a research project as one of the final-year assessment requirements. This piece of work is regularly discussed in our Facebook group.
Rory and Ken offer some tips on how to go about counselling research projects:
Be sure you can deliver your project in the time allowed, making sure you choose a topic that is of a manageable size.
Think about where and how you will do your secondary research (i.e. reviewing the current literature describing other people's research findings) and primary research (i.e. gathering your own data).
Try to resist getting bogged down in data-gathering, as there is also work to be done after this stage: analysing it, pulling out conclusions and preparing your presentation.
If your counselling research project is a pair or group work, then split the work between you for efficiency.
If you are in a group, think about agreeing a chair who coordinates the work.
Remember that your work will be measured on the written report you provide and your presentation, so invest some time in preparing these.
Ken concludes this segment of the podcast by running through some tips on how to present in a way that gets your message across clearly and holds the audience's attention.
Rory has produced a handout entitled 'The Importance of Research in Counselling', which you can download here or via the Counselling Study Resource (CSR).
New Book from Counselling Tutor (starts at 15.00 mins)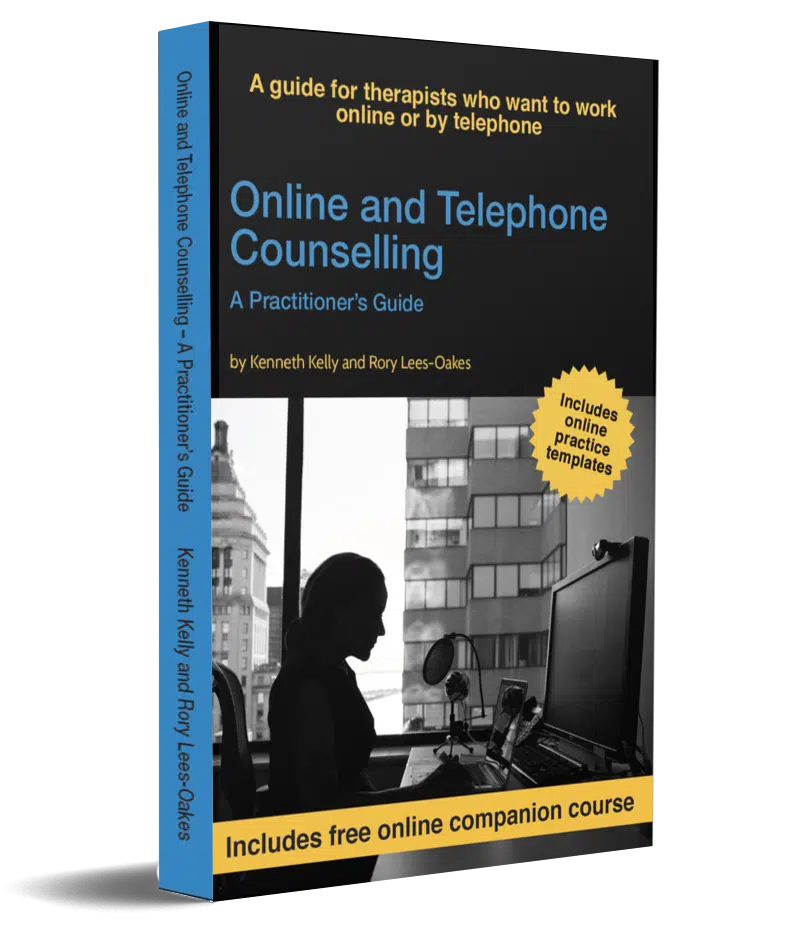 BESTSELLER
Online & Telephone Counselling Book
Available in Paperback and Kindle
Includes FREE COMPANION COURSE that you can do online to underpin and strengthen your learning
Since the outbreak of the COVID-19 pandemic in early 2020, online and telephone therapy has been experiencing a period of rapid growth. Counsellors need to ensure that they have trained to meet clients' call for remote therapy at this time and in the future.
Rory and Ken are pleased and proud to announce the launch of a new book to add to Counselling Tutor's other publications. Online and Telephone Counselling: A Practitioner's Guide is aimed at qualified counsellors and at students who are in placement or working towards this.
This new book acts as a guide, walking you through the theory, ethics, law and practice of adding online and telephone counselling to your practice. It includes:
the paperwork templates you will need for your online practice
access to an online companion course, 'Introduction to Online and Telephone Counselling', to strengthen and underpin your learning.
The book is available on Amazon and via the Counselling Tutor Shop. You might also like to consider our full course, Online and Telephone Counselling, which has already trained thousands of therapists in online working. Again, this is open to qualified practitioners or to students who are either in – or about to start –placement.
Peek into Rory's Practice (starts at 26.45 mins)
In this new feature, we will talk to practitioners in the world of counselling and psychotherapy about their practice life. To illustrate this, Rory kicks off by telling us about his time as a school counsellor, including:
his daily routine
what type of clients he saw
how clients were referred to him
the challenges of his work environment
the rewards of his work.
Would you like to speak about your counselling work? If so, please email Rory at rory@counsellingtutor.com and tell him a little about who you are, what modality you use, and what points you feel passionate about getting across to listeners.
Just as Rory needed to gain specific CPD training to be able to work with children ethically, so CPD can enhance your practice and ensure you offer clients the best possible service.
Do take a look at our Counsellor CPD online library, where you can find a lecture on counselling children and young people. We are planning too to bring you a course on working with this age group: watch this space!
Free Handout Download
The Importance of Research in Counselling