255 – Note Keeping in Counselling Agencies
Being a Member of Two Ethical Bodies – Overcoming Procrastination for Counsellors
In Episode 255 of the Counselling Tutor Podcast, your hosts Rory Lees-Oakes and Ken Kelly take us through this week's three topics:
Firstly in 'Theory in Practice', we look at note-keeping in counselling agencies, in particular the different expectations you might find from an agency or placement when storing notes.
Then in 'Practice Today', Rory and Ken discuss whether you can be a member of more than one ethical body, and why you might consider this an option.
And lastly in 'Practice Matters', Rory speaks with Josephine Hughes on overcoming procrastination and perfectionism for counsellors.
Note Keeping in Counselling Agencies [starts at 03:04 mins]
This segment of the Counselling Tutor Podcast is sponsored by
WebHealer.net
WebHealer are the go-to provider of websites for private practitioners

in the UK.

Established over 20 years, WebHealer offers a

non-technical and fully supported service

to help therapists grow their private practice.
Just one customer from your website each year pays for their service.
Go to WebHealer.net and use coupon CT100 for £100 off their "Do it for me" service.
When it comes to storing notes, we're all aware of the importance of confidentiality, and anything that we feel might put that at risk can cause some feelings of discomfort.
In this section, Rory and Ken discuss some of the ways you may be asked to keep your notes whilst working at a counselling agency or on placement:
The expectations of an agency may be that you store your notes on a system that other people have access to.
This way of note keeping in counselling agencies may bring about some initial feelings of discomfort, but it's important in upholding continuity of care.
This means a client can see a different counsellor if one is absent, and that clients won't have to recount difficult events multiple times.
It's important that if notes are being stored this way, this is written into your contract. Detail the confidentiality policy, and explain why their notes are being stored this way.
Clarity – having access to a client's notes before seeing them offers you clarity on the client that you wouldn't of had otherwise.
Ask your agency questions – understand these policies so if you're asked by a client, you can give them answers.
Theory to Practice is sponsored by
Counselling Skills Academy
Learn counselling techniques by seeing counselling skills used in real sessions by qualified therapists.
Real sessions – real-life presentations – real skills.
Being a Member of Two Ethical Bodies [starts at 18:09 mins]
The possibility of being in more than one ethical body might not of occurred to many people, but what does this really mean for your practice?
It is completely possible for you to be a member of more than one ethical body.
There are currently 11 psychotherapeutic bodies registered under the professional standards authority – each with differently worded ethical frameworks.
If someone makes a complaint – you cannot be held accountable by 2 ethical bodies. You will put one of your ethical bodies in your contract that your client can make complaints to.
All ethical bodies come down to the same key 'rules' under the professional standards authority – it's just that they may be interpreted slightly differently.
It's important to think about why you want to join more than one ethical body. Is it to support your separate practices? E.g. working with adult clients and working with children and young people.
Regardless of what you choose, it's important you're making the right choice for you.
Get on-demand Certified CPD that is implementable in your practice
Counsellor CPD Library
Over 150 hours of on-demand CPD lectures to help you stay current with your CPD ethical requirements
Support, and be supported, by thousands of other counsellors as a member of the exclusive online community.
Access your learning anytime you want ... anywhere you choose ... using any device type — desktop or mobile.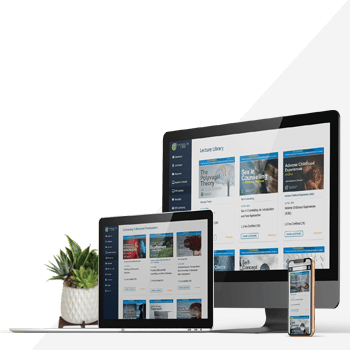 Overcoming Procrastination for Counsellors [starts at 31:37 mins]
In this week's 'Practice Matters', Rory speaks with Josephine Hughes on overcoming procrastination and perfectionism for counsellors.
The key points of this discussion include:
Counsellors may experience feelings of imposter syndrome – feeling not good enough. This is something that often comes with doing something new.
You might compare your weaknesses with other people's strengths.
It's important to try and have a growth mindset – be open to critique and making mistakes.
A fixed mindset – rigid, unprepared to make mistakes or try something new.
A willingness to make mistakes will only add to your human aspect – if we're expecting ourselves to be perfect, what does this say to the client?
Be prepared to take risks, make mistakes, and learn from them.
You can only be the best therapist you can be at this point in your development.
You should feel that you can take things to your supervisor if there's anything you're feeling unsure or anxious about.
Your worth isn't what you do, it's who you are.
The National Counselling and Psychotherapy Society is proud to sponsor Practice Matters.
NCPS (formerly NCS) are really excited to have launched their Children and Young People Therapist Register for counsellors working with the younger age group.
Free Handout Download
Good Practice in Note-Taking