237 – Record-Keeping in Counselling
Frame of Reference – Integrative Counselling
In Episode 237 of the Counselling Tutor Podcast, your hosts Rory Lees-Oakes and Ken Kelly take us through this week's three topics:
In 'Theory in Practice', we'll look at frame of reference.
Then in 'Practice Partner' Rory and Ken will discuss record keeping in counselling.
And lastly in 'Practice Matters', Rory speaks with Ali Bate on integrative counselling.
Frame of Reference [starts at 02:41 mins]
This episode of Counselling Tutor Podcast is sponsored by
WebHealer.net
WebHealer are the go-to provider of websites for private practitioners

in the UK.

Established over 20 years, WebHealer offers a

non-technical and fully supported service

to help therapists grow their private practice.
Just one customer from your website each year pays for their service.
Go to WebHealer.net and use coupon CT100 for £100 off their "Do it for me" service.
When working with clients, you may be faced with an individual who has views very different to your own. This is when frame of reference becomes increasingly important.
The key points of this discussion include:
It is natural to want to defend your opinion or belief when faced with opposition – but this is obviously not an option within the therapy room.
Try to understand why somebody is thinking the way they are – try to get into your client's frame of reference.
Your frame of reference is made up of your experiences, culture and upbringing – this is what makes your 'truths'.
It's useful to recognise your own frame of reference – journaling is a great place to do this.
Understanding someone else's frame of reference doesn't mean you have to agree with it.
Try your best not to feel under attack when faced with a frame of reference different from your own.
Seek CPD to help with working with diverse client groups - this will expand your ability to be empathetic.
Theory to Practice is sponsored by
Counselling Skills Academy
Learn counselling techniques by seeing counselling skills used in real sessions by qualified therapists.
Real sessions – real-life presentations – real skills.
Record-Keeping in Counselling [starts at 16:24 mins]
When starting your own private practice, you are responsible for more than just session notes – and these will need to be stored appropriately.
The main points of this section on record-keeping in counselling include:
When running your practice you'll be in charge of:

Invoices and receipts
Date and time of appointments
Any forms of communication with the client (texts, emails, etc.)
Contracts
Any kind of assessments or interventions you carry out

These will all need to be kept securely and confidentially, as they all include a client's personal information.
Look at legal and ethical regulations on record-keeping in counselling, and keep only what is required.
Ensure your notes are accurate and include only fact – no opinions or assumptions.
It's unwise to use free software to store client information – it will not be secure.
If you're looking for a place to store this data, Counselling Tutor have developed 'Therapy Lock' – a place for you to store and manage your data. It has been built for therapists, by therapists, with confidentiality in mind.
Get on-demand Certified CPD that is implementable in your practice
Counsellor CPD Library
Over 150 hours of on-demand CPD lectures to help you stay current with your CPD ethical requirements
Support, and be supported, by thousands of other counsellors as a member of the exclusive online community.
Access your learning anytime you want ... anywhere you choose ... using any device type — desktop or mobile.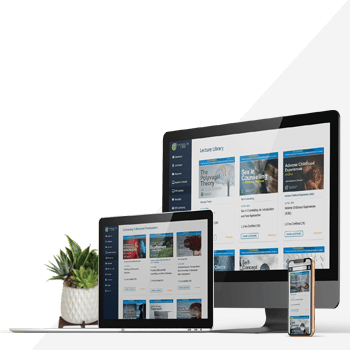 Integrative Counselling [starts at 34:41 mins]
In this week's 'Practice Matters', Rory speaks with Ali Bate on integrative counselling.
The key points of this discussion include:
Integrative counselling uses elements of other models alongside your main modality to better fit to client, instead of trying to fit to client to the model.
This gives flexibility to how you work, but still maintains the authenticity of the concepts that make up your integrative model.
Training is integrative – seek workshops and CPD to broaden knowledge and skills.
Discuss this training with your supervision and find your reasons for wanting to develop the way you practice.
Ask yourself if you have the skill set for this particular client.
Find areas that interest you – this is where you will do your best learning.
The National Counselling Society is proud to sponsor Practice Matters.
NCS are really excited to have launched their Children and Young People Therapist Register for counsellors working with the younger age group.