233 – Focusing in Counselling
Phenomenology – New Beginnings
In Episode 233 of the Counselling Tutor Podcast – the last of the season – your hosts Rory Lees-Oakes and Ken Kelly take us through today's three topics:
In 'Counselling Foundations', we look at phenomenology – the philosophy of perception.
Then in 'Focus on Self', we think about new beginnings.
And lastly in 'Practice Matters', Rory speaks with Sally-Anne Armitage about using the skill of focusing in counselling.
Phenomenology [starts at 02:03 mins]
Counselling Foundations is sponsored by
Counselling Skills Academy
Learn counselling techniques by seeing counselling skills used in real sessions by qualified therapists.
Real sessions – real-life presentations – real skills.
Listen as Rory and Ken discuss the tongue twister of the day – phenomenology.
The key points of this discussion include:
It is the philosophy of experience and perception.
How we interpret the world, our place in the world, and what is happening around us – this will be completely individual to ourselves.
To enter the clients frame of reference is to understand their phenomenological view.
How you engage with the world will be different from others.
Should counsellors offer a gentle challenge to alter a client's worldview or opinion on something?
The phenomenological way we view things can change.
New Beginnings [starts at 19:56 mins]
Get on-demand Certified CPD that is implementable in your practice
Counsellor CPD Library
Over 150 hours of on-demand CPD lectures to help you stay current with your CPD ethical requirements
Support, and be supported, by thousands of other counsellors as a member of the exclusive online community.
Access your learning anytime you want ... anywhere you choose ... using any device type — desktop or mobile.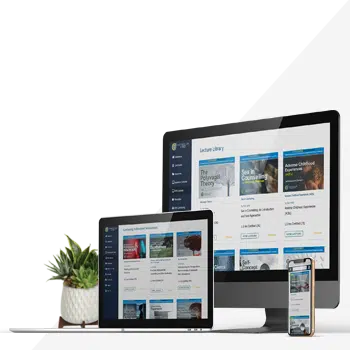 Plenty of focus is given to endings within our lives, but focusing on new beginnings is just as important.
In this section Rory and Ken discuss some of the main things you can consider when it comes to your new beginnings:
Maybe try and place more emphasis on beginnings than endings – think about where you're going, not necessarily where you've been.
Thinking, 'what's next?'
With every ending there is a beginning – try not to dwell of the endings.
New beginnings can come in different forms with different feelings – excitement, nervousness.
Embrace the new beginnings.
Using the Skill of Focusing in Counselling [starts at 30:38 mins]
The National Counselling Society is proud to sponsor Practice Matters.
NCS are really excited to have launched their Children and Young People Therapist Register for counsellors working with the younger age group.
In this week's 'Practice Matters', Rory speaks with good friend Sally-Anne Armitage about using the skill of focusing in your counselling practice.
The main points of this discussion include:
You might begin by asking the client where they want to start, or if there's something in particular they would like to prioritise speaking about.
Using the skill of focusing in counselling also means picking up on incongruence – very carefully watching clients' actions, tones, and emphasis.
Taking the clients closer to their own frame of reference.
Saying what you observe, inviting the client to be themselves.
Some things to be thoughtful of:

Not using your own frame of reference – almost everything should be coming from the client, not you.
Our intervention should go back into the client – not leading to new. Lead the client 'in' not 'out'.
Transference and your own experiences may make it difficult to use focusing and stay in the client's frame of reference.

Don't try to solve or analyse – listen.
Free Handout Download
Phenomenology in Person-Centred Counselling