230 - Metacognitive Therapy
Existential Therapy - Adapting Your Therapeutic Model
In Episode 230 of the Counselling Tutor Podcast, your hosts Rory Lees-Oakes and Ken Kelly take us through this week's three topics:
First, in 'Counselling Foundations', we look at existential therapy.
Then in 'Focus on Self', Rory and Ken discuss adapting your therapeutic model.
And lastly in 'Practice Matters', Rory speaks with Dr Pia Callesen about metacognitive therapy.
Existential Therapy [starts at 01:45 mins]
Counselling Foundations is sponsored by
Counselling Skills Academy
Learn counselling techniques by seeing counselling skills used in real sessions by qualified therapists.
Real sessions – real-life presentations – real skills.
In this section on existential therapy, Rory and Ken briefly discuss the philosophy behind existential thoughts and some things you can give clients to think about in order to help them deal with these thoughts:
Struggling to find meaning between life and death.
A fear of existence.
Help the client to identify the meaning of their lives through things such as goals.
Having an end point gives everything that happens before it meaning.
Nothing is fixed – the only thing constant is change.
Therapists set the ground for asking questions like 'why not?' – just giving things a go.
Adapting Your Therapeutic Model [starts at 16:33 mins]
Get on-demand Certified CPD that is implementable in your practice
Counsellor CPD Library
Over 150 hours of on-demand CPD lectures to help you stay current with your CPD ethical requirements
Support, and be supported, by thousands of other counsellors as a member of the exclusive online community.
Access your learning anytime you want ... anywhere you choose ... using any device type — desktop or mobile.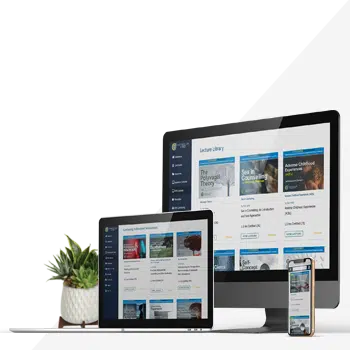 Once you're a qualified counsellor, there may be times when a client needs something outside of your usual modality. Rory and Ken discuss some of the things to think about when adapting your therapeutic model:
It's important to meet the client where they are and adapting your practice to it.
However, it's important to not work outside of your competence.
CPD – you can integrate elements from your CPD into your practice.
Is person-centred therapy a model, or simply a way of approach?
Speak to your supervision if there's anything you're unsure about.
Metacognitive Therapy [starts at 30:49 mins]
The National Counselling Society is proud to sponsor Practice Matters.
NCS are really excited to have launched their Children and Young People Therapist Register for counsellors working with the younger age group.
In the final section of this week's episode, Rory speaks with Dr Pia Callesen on metacognitive therapy.
The main points of this discussion include:
When looking at the main causes of psychological illnesses, Prof. Adrian Wells found that the time spent on your thoughts was an incredibly influential factor, and thus created the metacognitive theory.
Metacognitive theory is all about the self-regulation of your thoughts.
Don't ruminate on your thoughts – this doesn't mean having an empty head, it just means leaving your thoughts alone.
Restoring clients' metacognitive belief – they do have the control to leave their thoughts alone.
Changing the belief that worrying and ruminating over thoughts for a long period of time will help to solve the problem.
Metacognitive therapy happens over 5-12 sessions – a short term, research-based treatment.
The client is still having thoughts and emotions, they're simply not engaging with them.