221 – The Power Threat Meaning Framework
Writing a Case Study – Taking a Break from Counselling
In Episode 221 of the Counselling Tutor Podcast, your hosts Rory Lees-Oakes and Ken Kelly are back with three more topics:
In 'Counselling Foundations', we'll talk about the dreaded task of writing a case study.
Next in 'Focus on Self', the option of taking a break.
And finally in 'Practice Matters', Rory speaks with Dr. Ian Newey about a book called The Power Threat Meaning Framework by Lucy Johnstone and Mary Boyle.
Writing a Case Study [starts at 1:55 mins]
Counselling Foundations is sponsored by
Counselling Skills Academy
Learn counselling techniques by seeing counselling skills used in real sessions by qualified therapists.
Real sessions – real-life presentations – real skills.
Writing a case study is never easy, but in this episode, Rory and Ken discuss certain things to think about when it comes to putting your own case study together:
Weave in the theory that you've been taught.
It shouldn't be clinical, include yourself in the therapeutic relationship – it's not a psychological case study.
Make sure you're thinking of the client as a human being.
Have an understanding of Bloom's verbs and use them e.g. analyse, explain etc.
If you're doing a supervision based case study, look to yourself and your own supervision. This may not always be what you did do, but sometimes what you didn't do.
You'll need to include a conclusion.
Reflection – what you might've done differently if you were to do it again.
Taking a Break from Counselling [starts at 17:05 mins]
Get on-demand Certified CPD that is implementable in your practice
Counsellor CPD Library
Over 150 hours of on-demand CPD lectures to help you stay current with your CPD ethical requirements
Support, and be supported, by thousands of other counsellors as a member of the exclusive online community.
Access your learning anytime you want ... anywhere you choose ... using any device type — desktop or mobile.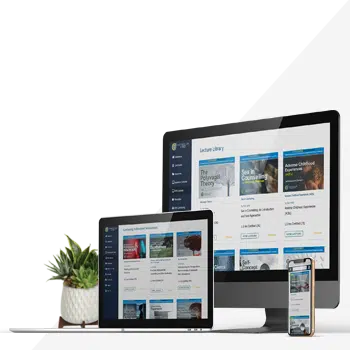 Within this profession, you can be hit with an unexpected curveball such as a bereavement or separation, or you may just face a burnout. Both of these are completely natural, and it's perfectly acceptable to put yourself first in these situations.
The main points of this discussion are:
It's the right thing to do, both for you and your clients, to step back when facing personal difficulties.
Look at your ethical body and check the allowances for stepping back and the actions that must be taken.
Stepping back isn't a weakness – it's a strength to be able to recognise when you need a break.
There is always the option to return when you feel up to it.
The Power Threat Meaning Framework [starts at 32:42 mins]
The National Counselling Society is proud to sponsor Practice Matters.
NCS are really excited to have launched their Children and Young People Therapist Register for counsellors working with the younger age group.
In this week's 'Practice Matters', Rory speaks with Dr. Ian Newey about The Power Threat Meaning Framework by Lucy Johnstone and Mary Boyle.
The key points of this discussion include:
Labels can sometimes have a damaging effect – they can close down questions instead of opening up more.
A diagnosis isn't an answer, it's a set of patterns put together by a committee.
Contextualize distress – 'what happened to you?' instead of 'what's wrong with you?'
Helping a client to understand how they got there can help them understand how to get out.
Free Handout Download
Writing a Counselling Case Study